New year. New music. New…Justin Timberlake?
HECK.YES.
I've been asked my thoughts on JT's newest and I was torn, so I've mostly been silent. At this point, I've given myself more time to digest, so here they are. Keep reading if you're interested…or just to see some solid JT gifs if you're feeling thirsty. Here. We. Go.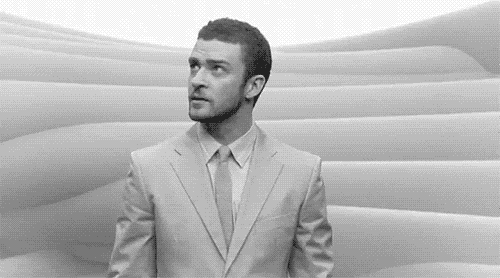 Filthy
Give it some time and some VOLUME and filthy is….FILTHY. The biggest mistake you can make while listening to this one is not cranking your volume up as close to max as you can. I was told this song was meant to be listened to loud and that ended up being 100% accurate. Get in your car. No, really do it. And PLAY THIS LOUD. You will dance.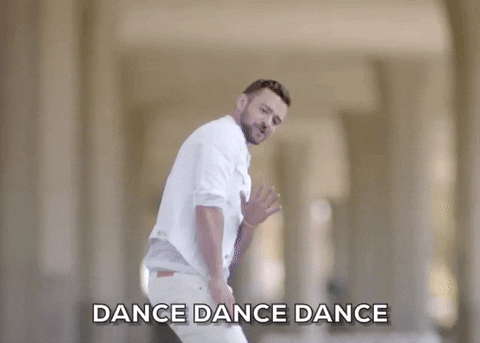 Full disclosure, if you were looking for something like The 20/20 Experience you probably won't find it here. So far, I'm confused by the naming of the album as when you name something "Man of the Woods" I was expecting something like that weird John Mayer album (Paradise Valley) he released when he was dating Katy Perry. Side note: Let this be a lesson to us all. Nothing good comes from dating Katy Perry. Yes, I said it.
You would almost expect Timberlake to go back to his Nashville roots and incorporate something more instrumentally influenced. Yet, Filthy sounds electronic, energetic and hard. Maybe I'm misinterpreting the title of his new album. Only time will tell.
Clearly he had extravagant arena shows in mind when he was creating this track. If the rest of the album is anything like this, it's clear he is setting himself up for one of the highest points of his career. He is planning on doing 2018 BIG. If you were looking for intimate JT, you won't find him here. Filthy is loud, highly-produced and made for dancing and high-energy environments. It's a culmination of the showmanship and musicality that Timberlake has fine-tuned and honed over his decades-long career.
Supplies
My first thought when the beat drops: OH OK.
I think that after a release of a track like Filthy you need a track like this. It's the one you can groove in your car to. It's still big enough to be excited about, but it's not so big you don't know how to listen to it casually. It's the more relaxed counterpart to the really hyped up opening track. This is another layer in an evolved version of Timberlake. It relies on a catchy beat that finds your chest and rests inside it enjoyably. After all these years of him finding his sound, making cameos on other artists' work and making catchy radio hits for other projects it finally seems like he's doing something for himself.
These two tracks remind me of when he reintroduced himself to the world by giving us the beloved and iconic FutureSex/LoveSounds. It sounded different than how we were used to hearing him and you could tell he was exploring another side of himself in a way that he felt empowered, thereby empowering all of us that listened. If you're looking for FutureSex/Love Sounds or the Gatsby version of Timberlake when he released The 20/20 Experience, you will be disappointed. Man of the Woods won't be like either of these. It will be an evolution of them. This is what you have to appreciate about Timberlake though. He knows how to explore his own musicality and make it match his evolution as a person without completely losing his audience.
With Man of the Woods I think we're in store for the most confident version of Timberlake we've seen yet and I think he's going to match that with one of the biggest tours of his career. Stay tuned!
If you haven't listened yet, here's your shot. What do you think of his new album so far? Leave your comments below!
*Photo from rapup.com